Publish your blogposts on Google
Google My Business is what the Yellow Pages used to be. Google scrapes all manner of business data and automatically compiles listings. When people Google your company's name, this automatic list will appear near the top of the search results. You can improve that listing by verifying your ownership / control of the business and add in additional information, such as opening hours, contact details, etc.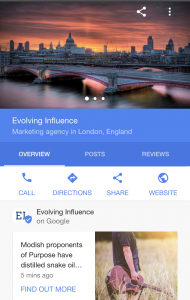 So far, so very standard as a business listings model. The control panel page for your business includes links to analytics (so you can see how often you're appearing in searches) and AdWords (so you can boost your company's presence through advertising on Google).A posts function joined these other services at the end of June. It's pretty simple, all you have to do is:
Go to your Google My Business homepage or app (iOS, Android)
Click on create post
Write 100-300 words about your topic
Select a suitable image from your computer (optional)
Select a button option (i.e. buy here or read more) and provide a link to point the button towards.
Click preview and if you're happy…
Click publish
So why should you do this? Quite simply, standing out in search is critical for many businesses. The new posts function is an excellent way to ensure those searching for you find out not only where you're based but also what you think. It effectively lets you publish your thoughts at the top of the first page of Google search results.